Watch our 3-minute Family Video!
Our Founders' Story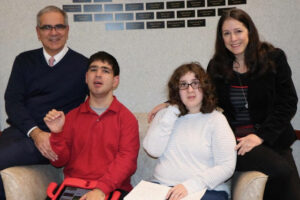 A day we will never forget, June 1, 1995, our two dear children, Julie and Alex, received the crushing diagnosis of Fragile X Syndrome, a devastating genetic disease that causes cognitive delay, severe anxiety and social impairment. Our lives were changed forever… Feeling the need to reach out to other parents, my wife, Leslie, and I founded the Fragile X Alliance of Ohio, a family support group, in 1997. We devoted the early years after our children's diagnosis to doing fundraisers for FX medical research and leading Fragile X awareness campaigns.
Then in 2005, we helped create the first Fragile X medical clinic in northeast Ohio. In 2008, I began 12 years of volunteer service as a board member for the Cuyahoga County Board of Developmental Disabilities to understand and help improve the DD system and the challenges ahead while finishing a successful 37-year business career. Leslie served for 6 years on the board of FRAXA Research Foundation, a national Fragile X Syndrome research organization.
But one inescapable question was keeping us up countless nights, realizing that our children were going to require care for the rest of their lives…
Where will our children live and what will their quality of life be when we are no longer here to care for them?
This is the question all parents who have loved ones with disabilities face. As our own children have gotten older, we have looked at housing options and settings for individuals with disabilities, including traditional group homes. We worried that they would be isolated, have roommates/homes chosen for them, and just have a lack of certainty in their lives.
Knowing our own children as we do, we decided to take action and create a better choice for them. We want to give our children and others like them access to the community by living within walking distance of city amenities. A quality, uniquely accessible, sustainable, supportive and safe neighborhood to address their housing and personal needs when we are no longer here. The increasing challenges of finding qualified caregivers, transportation and affordable housing are great and growing for individuals with disabilities.
Solon Community Living hopes to address these concerns with an innovative pilot housing and living option. This will be accomplished by using a person-centered approach to engage direct care and support professionals and by sharing public and private resources.
We hope this model can be replicated to serve greater numbers of individuals with disabilities to meet this critical need.